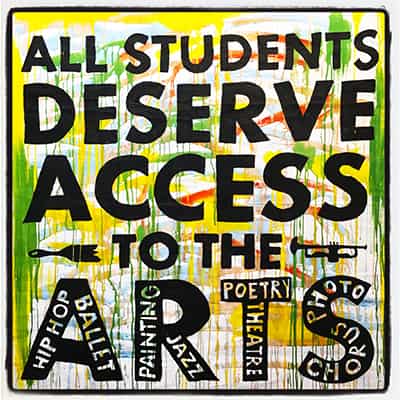 When children have access to arts in school they become creative thinkers and better students. This core belief sparked Picasso Project's inception when PCCY and a group of concerned citizens joined together in response to a lack of adequate funding for public education and the resulting near elimination of arts education from Philadelphia's public schools. The goal of the program is to improve the quality of arts programs at under-resourced schools, improve school climate by giving kids an outlet to work together on projects, and spark student interest by integrating arts with core academic subjects.
In 2003, Pennsylvania had just completed a "Give Back" initiative in which citizens were sent back "excess" funds collected by the state. At the same time, the arts were disappearing from Philadelphia's public schools due to lack of funding. A group of concerned individuals, including Vicki Ellis, Lucinda Post, Dennis Barnebey, and Germaine Ingram met with PCCY leadership and launched the Give Back the Give Back Campaign to urge citizens to help support the arts in our public schools by sending in their 'Give Back" funds. The initiative brought funding and notice to the issue, created new arts and education advocates, and set the stage for Picasso Project's first year of grants.
PCCY began to raise awareness among political leaders of the importance of the arts in education. PCCY's advocacy efforts inspired Philadelphia City Council to pass a resolution for "Arts in Education Day," celebrated in 2014 with student performances in Council chambers. The year 2007 brought increased recognition around the city of the need for supporting arts in public education, as well as an award from the Philadelphia Human Rights Commission.
Over the next several years, Picasso Project funds 17 school- based arts projects, and releases two reports that highlight the urgent need for arts education funding to Philadelphia's schools: "Anchoring and Amplifying the Arts in Our Schools," and "Listen To My Story… Tell Me Yours."  In 2010, PCCY hosts "Breaking Cultural Barriers Through the Arts" forum, bringing together students, educators, artists, administrators, and advocates to explore arts education's capacity to foster student understanding and respect.
Ever-committed to advocacy, PCCY begins mobilizing grant recipient schools to engage in strategic and coordinated arts advocacy campaigns. From 2010 to 2013, the Picasso Project funds 44 collaborative visual arts, dance, music, theater, and digital media projects. And, visibility continues to increase as students, parents, and teachers advocate at the city and state level. All projects now include talking with or writing to political leadership about the importance of arts in education. With outstanding grantees showcased at the Barnes Foundation, City Hall, and the PA House of Representatives, Picasso Project was in the spotlight and moving the needle.
Over the course of nearly two decades, the Picasso Project has awarded 311 grants to more than 101 schools, providing over 47,600 children access to innovative arts projects. The Picasso Project continues to award grants to Philadelphia public schools annually to support projects in creative, performing, and digital arts. At the same time, students and teachers at Picasso Project schools use their projects to advocate for funding for school arts programs at both the local and state level so future generations of students can express themselves through art at school.
By providing grants to support innovative arts projects in Philadelphia public schools and advocating for equitable access to arts education, Picasso Project has played a critical role in assuring that Philly's kids have access to high quality arts education.